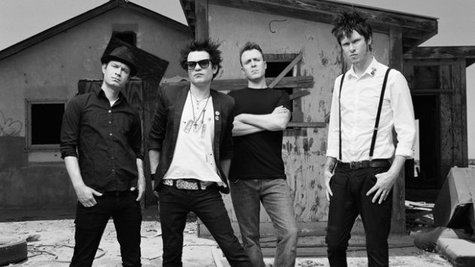 Sum 41 frontman Deryck Whibley has revealed in a new post on his website that he's been struggling with alcoholism -- so much so that his doctors have warned him that his next drink could kill him.
In the post, titled "Rock Bottom," he writes, "I've been very sick in the hospital for a month and was pretty sick for a few weeks leading up to my trip to the hospital. The reason I got so sick is from all the hard boozing I've been doing over the years."
Whibley writes his wake-up call came when he was sitting at home, pouring himself a drink, and he started to feel unwell. He recalls that he collapsed to the ground, unconscious, and was taken to the hospital.
Whibley, 34, says he was placed in an intensive care unit, and was "completely sedated" his first week.
He continues, "When I finally woke up the next day I had no idea where I was. My mum and stepdad were standing over me. I was so freaked out. My liver and kidney's collapsed on me. Needless to say it scared me straight. I finally realized I can't drink anymore. If I have one drink the docs say I will die."
The post included some fairly graphic photos of Whibley in the hospital.
Whibley's ex-wife, Avril Lavigne , on Saturday expressed her support for him on Twitter. She wrote , "Spoke to @Sum41 Deryck today. I am so proud of him. He is family to me and always will be. #StayStrongDeryck."
Follow @ABCNewsRadio
Copyright 2014 ABC News Radio