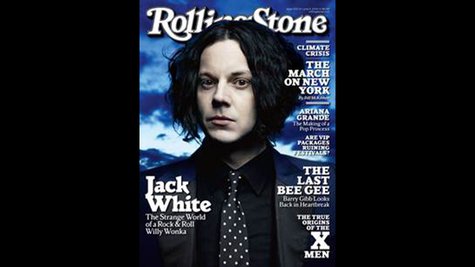 Jack White is on the cover of the latest Rolling Stone , and he reveals something fun -- and funny -- about the lyrics of his new album, Lazaretto. It seems that the song material was culled from stuff that the former White Stripes frontman had written as a teenager.
According to the magazine, a few years ago White found a stack of stories and plays he'd composed just after dropping out of college. Though he calls the clippings "mediocre," he took bits and pieces of the works as "a way of stimulating [himself]." White says he mused, "What if I talk to my younger self and work together with him?"
In the interview, the singer offers some White-ish crankiness, including the revelation that he sometimes gets crabby about things as minor as "why they make shoelaces so much longer than they need to be." He also takes aim at concert audiences. "People can't clap anymore, because they've got a f***ing texting thing in their f***ing hand," he gripes. "And probably a drink, too! Some musicians don't care about this stuff, but [for me] there's no set list. I'm not just saying the same things I said [the night before]. If they can't give me that energy back? Maybe I'm wasting my time."
You can read the full Jack White interview -- good, bad and ugly -- in Rolling Stone , on sale now.
Follow @ABCNewsRadio Copyright 2014 ABC News Radio