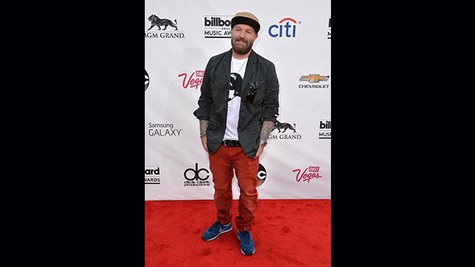 Limp Bizkit is overdue for a new album. The band's last studio release was way back in 2011, and last year Limp Bizkit promised fans a new CD in January 2014, which has come and gone without the arrival of Stampede of the Disco Elephants -- the supposed name of the missing album.
Where's the music? No one but the Limp Bizkit guys know for sure, but we may see video -- either in TV or film form -- before we see an album. At the Billboard Music Awards this past Sunday night, Bizkit singer Fred Durst said that he has a deal in place with Showtime for a "pilot script on a show that I created." Though Durst didn't reveal the subject matter, he did say that his head is very "focused" and that he's most "looking forward to making features."
When asked specifically about a film deal, Durst said it was "a little premature" to announce the details but that he's "in the process of marking up the [contracts] right now" on a film project that "I've been waiting on for a very long time, and working on for a very long time."
Durst has been linked to various film and TV projects over the last decade, including directing two feature films, 2007's The Education of Charlie Banks and 2008's The Longshots , and making appearances on Fox's House and the 2005 NBC miniseries Revelations .
Limp Bizkit fans in need of a music fix, there is some good news: while not mentioning Stampede of the Disco Elephants , Fred Durst did say that he just finished a solo album that sounds "like a male Mazzy Star ."
Stay tuned on all Limp Bizkit fronts.
Follow @ABCNewsRadio Copyright 2014 ABC News Radio