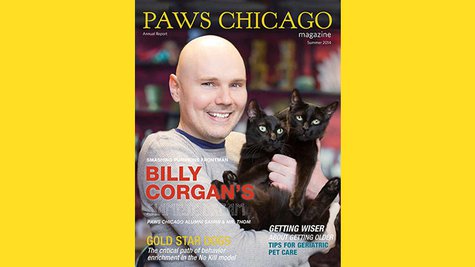 In between his many commitments, which these days include his Madame ZuZu's Teahouse and recording a new Smashing Pumpkins album, Billy Corgan has found time for another worthy cause: his local animal shelter. The Pumpkins frontman has lent his name and fame to the Pets Are Worth Saving, or PAWS, shelter in Chicago and has adopted two cats. He also serves as an adoption counselor to help others take home a new pet, giving frequent shout-outs and retweets from his Twitter account and even serving as the new cover guy on PAWS magazine's new issue.
The magazine cover features a grinning Corgan with his two kitties, Sammy and Mr. Thom -- the subject of a Tweet proclaiming "I love me cats!"
Maybe spending all that time with Motley Crue drummer and PETA member Tommy Lee lately has something to do with Corgan's shift. He posted an update on the Smashing Pumpkins site a few days ago that he's now a pescetarian, eating no other forms of meat except for fish.
On the Smashing Pumpkins front, Corgan has most recently updated fans to say that the lyrics for the new album, Monument to an Elegy , are finished. The first single from the album is expected by the end of 2014.
Follow @ABCNewsRadio Copyright 2014 ABC News Radio