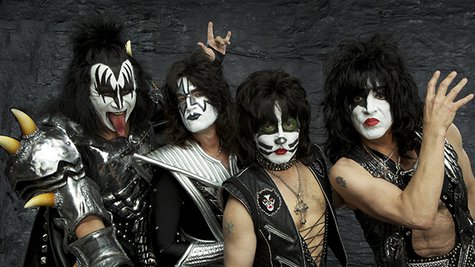 Caleb Johnson was named the season 13 American Idol winner Wednesday night after a performance that had the singer onstage with KISS performing two classic KISS anthems, "Love Gun" and "Shout It Out Loud." Backstage after the performance, KISS singer and bassist Gene Simmons said he was impressed.
"Caleb is great!" said Simmons. "You know, we're hard taskmasters, not everyone can get up on stage with us, we demand the best. He was great. He's got potential."
KISS' Paul Stanley modestly declared that the band's performance was on target as well: "The audience went crazy...[and] they were thrilled to have us here." The singer said he and the rest of KISS gave the audience "what we've been doing for 40 years. They wanted bombast, they wanted classic rock and roll, and we delivered the goods."
KISS kicks off a summer co-headlining tour with Def Leppard June 23 in Salt Lake City, Utah.