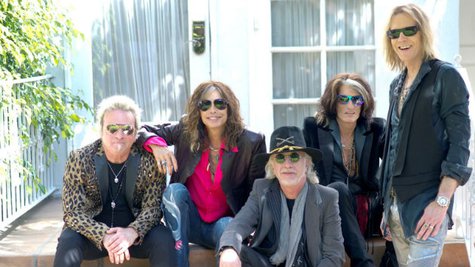 Aerosmith guitarist Joe Perry says he's completed his autobiography, Rocks: My Life In and Out of Aerosmith , which is scheduled to be published October 7.
"It took about a year longer than I thought it would," Perry tells Rolling Stone . "But it's finally done. We're just finishing up taking the pictures and going through all the little details that go with it."
Perry co-wrote the memoir with David Ritz and says he planned to write it sooner but decided to wait a bit when his band mates Joey Kramer and Steven Tyler came out with their own respective autobiographies in 2009 and 2011. The guitarist says that he especially didn't want to release his memoir too soon after Tyler's book because he "didn't want to make it seem like mine was an answer to his." That being said, Perry admits that his take on certain events differs quite a bit from the way his longtime songwriting partner recalled them in his book, Does the Noise in My Head Bother You?
"He's allowed to perceive things how he perceives things…But I didn't agree with a lot of the things he said," Perry tells Rolling Stone . "I just hope Steven accepts the things I say about how I felt and how I saw things happen. I don't put words in other people's mouths or talk about conversations that I wasn't there for."
Joe says one of the main reasons he wanted to write the autobiography is that he felt that there hasn't been a book to his liking that has covered Aerosmith's recent history.
"Not a lot of truth has come out about the last 20 years of the band," he maintains. "We all know about the 1970s and the VH1 Behind the Music bulls**t and getting the band back together, which itself is a small miracle. After that, it kind of drops off."
Follow @ABCNewsRadio
Copyright 2014 ABC News Radio