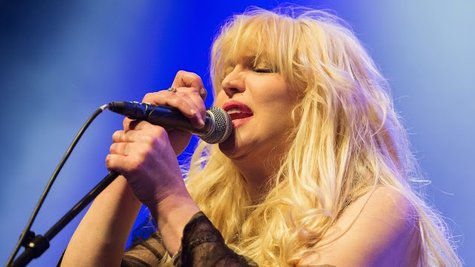 Courtney Love 's acting career was short-lived but attracted lots of attention, including lively debate over whether her performance in The People vs. Larry Flynt deserved an Oscar nomination. Maybe the singer is craving some positive reinforcement. In an interview with British magazine Q , Love says she "wants to do more" acting.
If it's not positive feedback she's seeking, maybe it's self-discipline. Love says, "I never had any behavior problems on a film shoot. Never been late. Never not gotten along with another actor, even if I didn't like them."
To give credit where it's due, Love has been on particularly good behavior lately, from burying the hatchet with longtime nemesis Dave Grohl at Nirvana 's Rock and Roll Hall of Fame induction to getting rave reviews for her recent U.K. gigs. Love's desire to return to acting could simply be about maturing -- she is 49, after all. She says that both music and acting fulfill her. "Rock and roll is great, and I'm good at it," she says. "And I like myself onstage better than I like myself in real life and all that stuff. But I really, really like acting. As I get older, the acting is something I want to do more of....I like going to work."
Besides her acclaimed role in Larry Flynt , Courtney appeared in Man on the Moon, Sid & Nancy, 200 Cigarettes and Basquiat, among films. Movie critic Roger Ebert called her "a real actress [who] can, if she wants to, give up her other job."
Follow @ABCNewsRadio

Copyright 2014 ABC News Radio