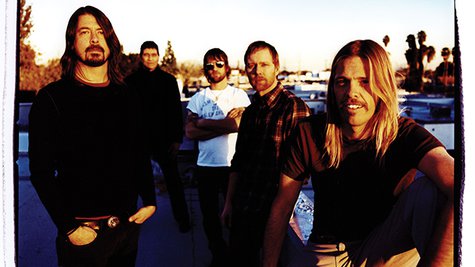 Could the Foo Fighters be heading Down Under? The band just posted a message on Facebook that read, "Hey AUS/NZ pals... It's been WAYYY too long. If you want to make sure to stay up on all the news. Sign up by clicking the envelope here. Cause you never know where/when the Foo's may show up. Just sayin..."
The Foos' Facebook page also had a similar post addressed to U.K. fans...but what's strangest is that within hours of their appearance, both posts were removed.
Last week, the band confirmed the release of its next album sometime this fall, linked to a new, as-yet untitled HBO series that Dave Grohl is producing. Each of the eight songs on the album was recorded in a different studio, using local talent.
Though the Foo Fighters press release didn't specify a date for the series, it does say it will premiere "on the eve of Foo Fighters' 20th anniversary." That would be sometime this October, 20 years after Grohl recorded the very first Foo Fighters songs at Robert Lang Studios in Shoreline, Washington.
Follow @ABCNewsRadio
Copyright 2014 ABC News Radio