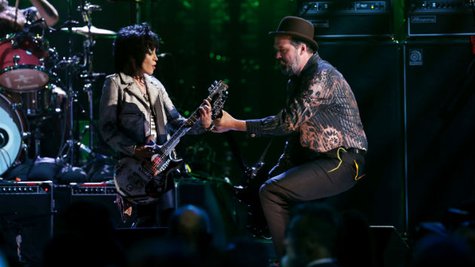 This past April 10, the Rock and Roll Hall of Fame held its annual induction ceremony for the first time in Brooklyn, New York, a star-studded event where the honorees included Nirvana , KISS, Peter Gabriel , Cat Stevens , Hall & Oates , Linda Ronstadt and The E Street Band . As you'd expect, the bash included a few surprises -- including a conciliatory hug between Courtney Love and Dave Grohl , an all-female-front Nirvana performance, and more. Plenty of highlights from the event will be featured on HBO's 2014 Rock and Roll Hall of Fame Induction Ceremony , which premieres Saturday at 8 p.m. and runs until 11:15 p.m. ET on HBO.
Here are just some of the memorable moments to look out for when you tune in to the show:
-- Dave Grohl, Krist Novoselic and Nirvana touring guitarist Pat Smear rocking out on several of their band's songs with four female guest singers -- Joan Jett , Sonic Youth 's Kim Gordon , St. Vincent and Lorde .
-- R.E.M. singer Michael Stipe honoring Nirvana, whose surviving members stood at the podium alongside late frontman Kurt Cobain 's widow, Courtney Love.
-- Coldplay frontman Chris Martin inducting Gabriel, who then sang "Washing of the Water" with Martin and recreated his classic duet "In Your Eyes" with Senegalese singer Youssou N'Dour .
-- Rage Against the Machine guitarist Tom Morello 's impassioned introduction for KISS, whose feuding original members played nice while giving their acceptance speeches -- but didn't perform.
-- The Roots ' drummer and band leader, Questlove , honoring Daryl Hall and John Oates , followed by a two-song set by the legendary blue-eyed soul duo.
-- Art Garfunkel honoring Cat Stevens -- now known as Yusuf Islam -- who sang a few of his best-known hits, including "Wild World."
After its premiere, The 2014 Rock and Roll Hall of Fame Induction Ceremony special will air numerous additional times on HBO channels. The show also will be available for a limited time via the HBO On Demand service. Visit HBO.com for more details.
Follow @ABCNewsRadio
Copyright 2014 ABC News Radio