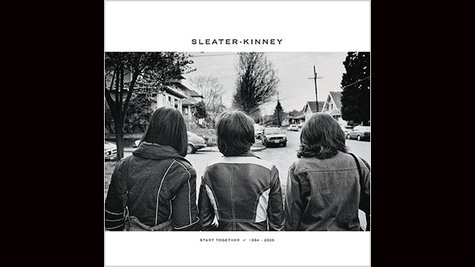 Sleater-Kinney 's entire catalog of studio albums has been remastered and will be released as a limited-edition boxed set sure to delight fans. The seven-vinyl-LP collectors' edition is called Start Together and will contain all seven Sleater-Kinney releases on colored vinyl, a 44-page hardcover book with never-before-seen photos, and a limited edition print.
Noted producer Greg Calbi -- who worked on Bruce Springsteen 's Born To Run and Talking Heads ' Remain In Light , among others -- was in charge of remastering the Sleater-Kinney collection and notes, "For such ferocious music, it was actually a very delicate process."
The vinyl edition hits stores on October 21, and is available for pre-order on the SubPop website . The digital version of Start Together is available now.
Here are the vinyl LPs included in the Start Together boxed set:
Sleater-Kinney (1995)
Call the Doctor (1996)
Dig Me Out (1997)
The Hot Rock (1999)
All Hands on the Bad One (2000)
One Beat (2002)
The Woods (2005)
Follow @ABCNewsRadio Copyright 2014 ABC News Radio