« Shows & Personalities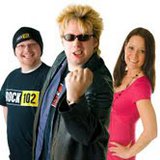 Scotch, Tank and Lucy
On Air:

Weekdays, 5:30am - 9am

Hosts:

Lucy Black, Scotch, Tank
About the Show

Scotch,Tank and Lucy are a bawdy and upbeat morning team with an electric sense of humor that still plays plenty of great rock to get your day started.

Show Hosts

Lucy Black

Lucy is a music and movie junkie with a strong appetite for 90s Rock. When she's not seated in front of a microphone, you can usually find her at one of the local burger joints with a craft beer in hand, with her dog Brutus, or playing video games. Lucy says the best part about working in radio is the laughing and the live music. Prior to her time in radio Lucy was a musician and a ninja. (Okay. Only half of that last sentence was true, but… we'll let you guess which half.)

Scotch

Scotch is a gentleman of leisure who has an insatiable love of B-movies. In fact, he blames much of who he is upon their influence. Junk culture, primarily 70's and 80's era sitcoms like WKRP in Cincinnati have also played a huge part in shaping who he'd become. Scotch has been a cartoonist for many years and the time he spent as a regular contributor to CRACKED magazine stands out as one of the most exciting periods of time for him as a comic artist. Having spent much of his adolescence reading what is widely considered to be the MAD magazine "knock off," he was thrilled when he was first asked to illustrate a piece for the magazine back in 2001. Scotch has worked as a radio personality for close to two decades and enjoys creating musical and audio parodies in addition to his numerous comic satires. He's a musician, he loves coffee and he owns numerous dolls but if you ask him about them he'll tell you that they're called action figures.

Tank

Tank McNamara started his radio career in Northern Minnesota in 1996. He couldn't take the hint to get out of the business after his first paycheck bounced. After a few stops in smaller towns in the upper Midwest, Tank moved to Fargo where he has held various positions in the Fargo Midwest Radio building since 2000.

With the whole job thing, a wife and 2 beautiful daughters, there is not a lot of free time for Tank. When there is a down time, Tank enjoys spending time with friends and family, catching some sort of sporting event and of course…a good concert.